3rd Annual Cyber Security Seminar 2018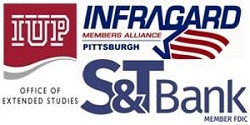 The 3rd Annual Cyber Security Seminar sponsored by Indiana University of Pennsylvania's Office of Extended Studies, S&T Bank, and INFRAGARD Members Alliance Pittsburgh. We will educate attendees on current and future trends in cybersecurity and what they can do to secure and defend critical information. This year's event will include a "Capture the Flag" exercise, an update on General Data Protection Regulation (GDPR), and a Chief Information Security Officer (CISO) panel.
We will be offering both technical and non-technical sessions to meet your needs. Additional sessions will be added soon!
Date: Friday, October 5, 2018
Time: 8:30 a.m.-3:30 p.m.
Fee: $10 per person
Location:
Kovalchick Convention and Athletic Complex (KCAC)
711 Pratt Drive
Indiana, PA 15705
Gifts to the Foundation for IUP – 501(c)(3) – are tax deductible as per IRS regulations. The charitable deduction is limited to the excess of your contribution above the value of goods and services provided. The official registration and financial information of the Foundation for Indiana University of Pennsylvania may be obtained from the Pennsylvania Department of State by calling toll free, within Pennsylvania, 1-800-732-0999. For calls which originate outside of Pennsylvania, the telephone number is 717-783-1720. Registration does not imply endorsement."