Non-Profit Organizations - IUP Accounting Career Day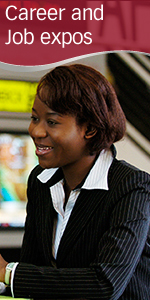 IUP Accounting Career Day 2018 – Wednesday, September 18, 2019
PLEASE NOTE: Employers registering after September 6, 2019, will not appear in our employer directory but instead will appear in a supplement to the directory. Also, no cancellations will be refunded for employers registering after our official deadline of September 6, 2019. The Accounting Career Day will take place on Wednesday, September 18, 2019, at the Rustic Lodge, 2199 Oakland Avenue, Indiana, PA 15701.
SCHEDULE:
8:30 a.m. – 9:30 a.m. – Employer registration
9:30 a.m. – 11:30 a.m. – Career Fair in the Groveside Room, open only to IUP students
11:30 a.m. – 1:00 p.m. – Employer Buffet-style luncheon in the Parkview Room.
1:00 p.m. – 3:00 p.m. – Career Fair in the Groveside Room open to both IUP and area university Accounting/Finance students
Non-Profit/Government STANDARD RATE - $200: Includes one booth with a table, two chairs, two luncheon tickets, one parking space and refreshments on the day of the fair; plus an organization profile in the Employer Directory. Additional representatives may be added for an additional $25/each.
As part of the registration fee, an organization profile is included in the Employer Directory. In addition, employers may choose to purchase an advertisement in the directory.
Full page - $200
Half-page - $125
Quarter-page - $62
SPONSORSHIP AND ADVERTISING
Looking for a way to increase visibility and create higher awareness of your organization to students at the IUP Accounting Career Day 2019? The following sponsorship opportunity is available:
Employer/Faculty/Student/Staff Luncheon: Provide lunch for the employers, IUP faculty and student participants. Cost: $4,000
Student Luncheon: Provide lunch for IUP Accounting/Finance students only. Cost: $2,000
Afternoon Refreshment: Provide soda/water/iced tea and snacks for student participants. Cost: $500
All sponsorships include basic table registration fee (no more than four recruiters), appropriate signage and recognition at the event, and preferred table placement within the event. If interested in pursuing these sponsorships, or additional sponsorship and partnership opportunities with IUP's Career and Professional Development Center, please contact Jan Shellenbarger by phone at 724.357.2235 or jans@iup.edu. Sponsorships will be limited and accepted on a first-come, first-serve basis.
CANCELLATION POLICY
Registration must be submitted by September 6, 2019 to have an organization profile listed in the Employer directory. All fees must be paid in full to be officially registered for this event. All cancellations must be in writing and are non-refundable after September 6, 2019.