REACH Conference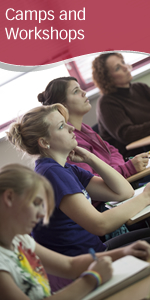 May 20-23, 2014 at Indiana University of Pennsylvania

Cost: $150 for the full conference or $50 per day. (the cost will be modified after adding it to the cart if only attending one or two days)

Housing: $34 per night in a private suite on campus. You must provide your own bedding and linens.

This cross-disciplinary conference will provide an in-depth focus on prevention, response, and coping with violence and trauma in the context of families, schools, medical settings, workplace, and in the military. For each of the four days of training, breakout sessions will include panels focused on both research and skill-building. Daily panels within the larger conference are organized according to subthemes. Many C.E. workshops will be offered in the evenings, including ones that cover professional ethics.

Sociology 481 students, please call the Office of Adult and Continuing Education for registration. 724-357-2292

For nursing, psychology and education questions, please contact:
Maureen McHugh
Professor of Psychology, IUP
Phone: 724-357-2448
Email: Maureen.McHugh@iup.edu

For sociology, criminology and other disciplines, please contact:
Christian Vaccaro
Professor of Sociology, IUP
Phone: 724-448-9216
Email: C.A.Vaccaro@iup.edu

If you have general questions, please contact:
Pearl Berman
Professor of Psychology, IUP
Phone: 724-357-2105
Email: Pearl.Berman@iup.edu

Sponsored by IUP Mid-Atlantic Research and Training Institute (MARTI) & the IUP Center for Applied Psychology (CAP).

After the quantity is added to the cart, you will be able to select your conference options on the next screen. Total cost will be adjusted if attending per day or registering as a student.