Great Decisions Foreign Policy Lecture Series 2018-Registration is now closed..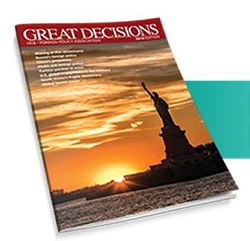 The Great Decisions series is part of the nation's largest nonpartisan study, discussion, and action program on contemporary foreign policy issues. It is designed to help you increase your understanding of eight of the most important world issues that this nation will confront in the coming year and beyond.
The last day to register for the program is Thursday, January 18, 2018.
Location: St. Andrew's Village 1155 Indian Springs Road Indiana, PA Bristol Court Dining Room
Session Time:Tuesday mornings, 9:30 a.m. - 11:30 a.m.
Registration Fee: $99 (individual) or $149 (couple) includes one briefing booklet
February 6: The Waning of Pax Americana-Dr. Mac Fiddner, Political Science
February 13: Russia's Foreign Policy-Dr. Howard Hastings, Political Science
February 20: China and America: The New Geopolitical Equation, Dr. Steve Jackson, Political Science
February 27: Media and Foreign Policy-Dr. Michele Papakie, Journalism
March 6: Turkey: A Partner in Crisis-Dr. Elizabeth Shelton, Executive Director, American Friends of Turkey
No class March 13, IUP Spring Break
March 20: U.S. Global Engagement and the Military-LTC Dennis Faulkner, IUP ROTC Program
March 27: South Africa's Fragile Democracy-Dr. Jennifer Smith, Geography and Regional Planning
April 3: Global Health: Progress and Challenges-Dr. Abigial Adams, Anthropology