I-Card Replacement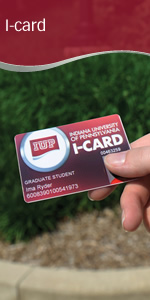 Welcome to the IUP I-Card Office Marketplace!
There is a $15.00 non-refundable replacement fee for a lost I-card. If you have any questions, please call 724-357-1314 or email icard-assistance@iup.edu.
All I-Cards purchased through Marketplace must be picked up in the I-Card Office. Cards will not be mailed.
The I-Card Office is located in the Hadley Union Building, Room 232. Office hours are from 9AM - 5 PM Monday through Friday. For information regarding your I-Card please visit www.iup.edu/icard.