Criminal Justice Training Center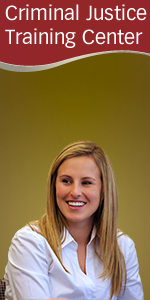 Act 120: Municipal Police Academy
To be employed as a police officer in the state of Pennsylvania, an individual must successfully complete a certified Act 120 program.
The Criminal Justice Training Center offers full-time and part-time Act 120 programs. Full-time academies meet from 7:00 a.m. to 5:00 p.m. Monday through Friday and usually take about four-and-a-half months to complete. Part-time programs are designed for people who work or whose schedules don't enable them to be in classes all day. T hese academies meet about twenty hours a week: two evenings from 6:00 p.m. to 10:00 p.m. and Saturdays from 8:00 a.m. to 5:00 p.m.
For further information on locations and availability, see Current Academy Schedules.
For more information on requirements, application process, program overview, qualifications and testing see Criminal Justice Training Center Act 120
This program is approved for Veterans Affairs benefits and financial aid (loans and PELL grants). Students must complete a Free Application for Federal Student Aid (FAFSA). If you have questions about financial aid for attendance in the Municipal Police Officers' Training Academy, please call the Financial Aid office at 724-357-2218. The campus Veterans' office can be reached at 724-357-3009